RE:TTO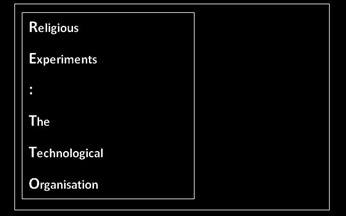 This incredible discovery was made on Monday 2nd February, around 8.50 a.m. by a man, Mr. Guy Deborny, a porter of the Reading University Agriculture Department. He had been in the room since 8.00 a.m. painting the floor and he reports there was no clue of any such happening unfolding or about to unfold in the room. He left the room at around 8.45 a.m. to go to the toilet and he returned to find this outburst covering the walls. No unusual sound was heard by Mr. Deborny while he was away and there appeared to be no trace of any other presence having ever been in the room. Upon discovering the wall patterns Mr Deborny immediately informed the university security who in turn called us, RE:TTO.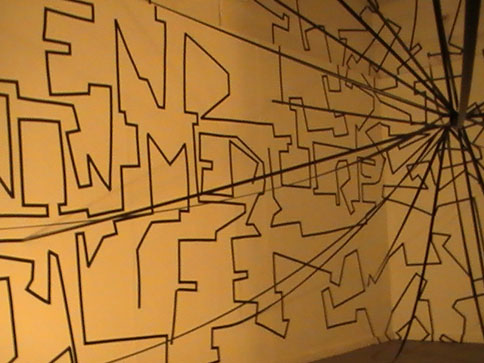 We are RE:TTO, or Religious Experiments: The Theoretical Organisation, an independently run group who investigate religiously significant phenomena. We believe that this room is one of the most important findings of the human race to date. Never before has such incredible evidence for a being of higher conscience been discovered. Various tests were carried out on the structure to try and discover any clue to how, where and why this could have come about but to no avail. There is no scientific explanation for what has happened in this room. The only piece of information we have to go on is the message inscribed on the back wall.
EXTEND NON-MEDIOCRE LIFE
How you interpret this statement is up to you, however we can say this. This is an excerpt from a sentence written by a French political, avant-garde activist who was associated with the groups known as the Lettrists and later theSituationists. The whole sentence goes as thus, "The most general goal must be to extend the non-mediocre part of life, to reduce the empty moments of life as much as possible". Think back to the man who walked in to discover this miracle in the TOBI gallery, his name is Guy Deborny­. Now ponder the fact that the man who originally wrote the whole passage inscribed upon the wall was called Guy Debord. This seems quite a co-incidence.
There is one more bizarre tale to be told on this incredible discovery. There is one more word which appears to 'sign' the rooms happening. On the right front wall at the bottom is the word 'OTTER'. We cannot know whether this is a further message from the creator signifying something greater, a mere red herring or perhaps even the name of this being. However, OTTER strangely is the reverse of our groups name, RE:TTO. This cannot be just chance. What this means we can only try and guess. However, everyone involved in RE:TTO firmly believe that this is undeniable proof that something, somewhere is tampering with our existence and they are calling for us to follow.